Archive for November, 2009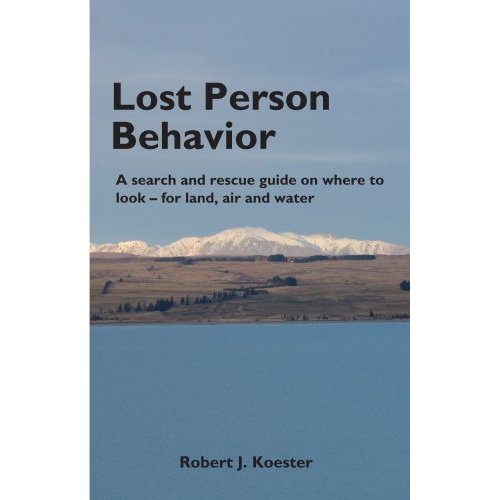 December 12-13, 2009 (Sat-Sun) 9:00 AM – 5:00 PM
Hall EOC, 470 Crescent Drive, Gainesville, GA 30501
Course Cost $30.00 (includes book and workbook)
Instructors: Jim Greenway & Ed Nance, the only two Georgia residents certified by the author, Robert J. Koester, to teach the course.
Notify Ed Nance (ednance400@gmail.com) for one of the thirty seats.
Participants will not only gain a full understanding of 41 subject categories contained within the Lost Person Behavior profiles, which have been compiled from the latest search and rescue incident statistics from the International Search and Rescue Incident Database (ISRID), but also receive a workbook along with in-depth instruction and case studies that goes above and beyond the just the book. The class is limited to 30 participants. Hall County Agencies will be given first choice to 11/20, and then will be offered throughout Northeast Georgia.
Lost person behavior is the cornerstone of search and rescue efforts. Based upon a landmark study, this book is the definitive guide to solving the puzzle of where a lost person might be found. Nowhere else is it possible to learn about the latest subject categories, behavioral profiles, up to date statistics, suggested initial tasks, and specialized investigative questions. This book delivers what search managers need.
Lost Person Behavior provides the reader with:
An indispensable book that can be used as a field reference (special rugged binding allows the book to lay flat) and an essential library reference

The latest search and rescue incident statistics from the International Search & Rescue Incident Database (ISRID), which contains over 50,000 SAR incidents

New detailed behavioral profiles that give insight into what drives the basic behaviors of lost people

Statistics based upon ecoregions to best match your specific search areas

New types of statistical information; find location, scenario analysis, mobility time, survivability, elevation changes, track offset, dispersion angles, plus classic statistics such as distance from the initial planning point

The ability to pinpoint the most likely areas to search, then determine initial tasks quickly using reflex tasking, the bike wheel model, and quick consensus.
Robert Koester's ground-breaking research has made a science of the study of lost person behavior. This book underscores the importance of that science. Lost Person Behavior is an indispensable part of any rescuer's library.
-Charley Shimanski, President Mountain Rescue Association
** UPDATE – SARCON 2010 has been Cancelled **
Georgia SARCON (Search & Rescue Conference) RETURNS on Jan 29-31, 2010 !!!!!!!!!
After a one year hiatus, the well received SARCON is returning to Georgia.
This is an excellent opportunity to learn from fellow professionals in the Georgia SAR community.
CONFERENCE AGENDA
CONFERENCE SESSIONS, FRIDAY – SUNDAY, JANUARY 29-31, 2010
GROUP SESSION ONE
– Friday night: KEYNOTE ADDRESS, Mark Eggeman, State SAR Coordinator Operations Division, Virginia Department of Emergency Management.
Mr. Eggeman will provide insight into the well established Virginia State Search and Rescue program, and discuss the necessary steps to develop a broader SAR capability. He will also discuss how volunteers are best utilized in a statewide SAR program.
GROUP SESSION TWO
– Saturday night: Organized movie night. Fun-filled networking opportunity.
TRACK OVERVIEWS
TRACK I – SAR Management
: The SAR management track is for those people who will actually be directing a search operation. This assumes you are with an agency that responds to search incidents or are preparing to join one. Prerequisites include FEMA online courses, NIMS ICS 100, 200 & 809. The course is designed to provide the skills necessary to properly initiate search operations and manage a growing search incident.
TRACK II – SAR Operations and Tactics:
This track is designed for those who understand basic search and rescue topics and desire to learn more about SAR operations, tactics and the SAR ready pack. Those wishing to challenge the NASAR SAR TECH II exam at the conclusion of this course may take the written NASAR certification test for an additional fee of $60/NASAR member, $75/Non-member, and participate in the practical skills review and ready-pack check. If attempting the NASAR SARTECH II certification, it is necessary that you are familiar with course materials, own the required 24-hour ready pack, and have all the required contents.
TRACK III – Intro to SAR:
This track is designed for those who would like an introduction into Search and Rescue topics. This will provide a high level overview and provide an opportunity to obtain NASAR SAR TECH III certification. Those wishing to challenge the NASAR SAR TECH III exam at the conclusion of this course may take the written NASAR certification test for an additional fee of $60/NASAR member, $75/Non-member. It is highly recommended that participants be familiar with course materials prior to the beginning of class and use this course only as a review if attempting certification
TRACK IV – Resources:
Plan to attend sessions in this Section in order to meet and learn from experts in areas that can support SAR efforts including: GEMA, GSAR, IMT, GSDF, GBI CAT, GTA and others. Specific times are not yet available and specific groups have not been finalized. These will be posted as soon as available.
VENDOR – DISPLAY SESSIONS
Commercial vendors dealing in equipment used in the SAR environment will be invited to display their products and promote their services. Additionally, public safety agencies will be invited to offer equipment displays. Two sessions per day will be scheduled to conference participants to visit with vendors, in addition to regular meal and break periods.
If you are interested in Search & Rescue in Georgia, you need to be at SARCON 2010.
Click the link below to get the "Official" Registration form, with all the details, including the cost, lodging and other important info.
SARCON 2010 – Registration Form
If you see any of us staring intently down at the dirt :-), stop by and introduce yourself.  We want to meet you.