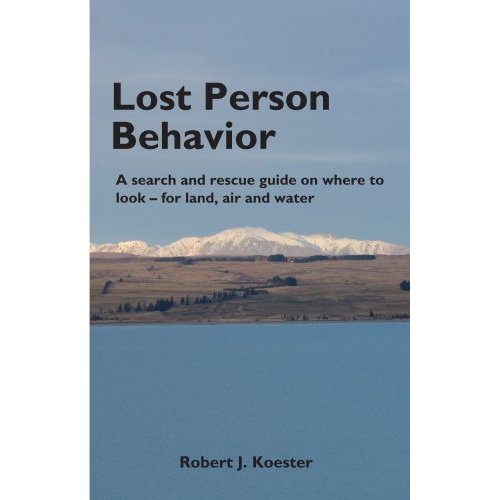 December 12-13, 2009 (Sat-Sun) 9:00 AM – 5:00 PM
Hall EOC, 470 Crescent Drive, Gainesville, GA 30501
Course Cost $30.00 (includes book and workbook)
Instructors: Jim Greenway & Ed Nance, the only two Georgia residents certified by the author, Robert J. Koester, to teach the course.
Notify Ed Nance (ednance400@gmail.com) for one of the thirty seats.
Participants will not only gain a full understanding of 41 subject categories contained within the Lost Person Behavior profiles, which have been compiled from the latest search and rescue incident statistics from the International Search and Rescue Incident Database (ISRID), but also receive a workbook along with in-depth instruction and case studies that goes above and beyond the just the book. The class is limited to 30 participants. Hall County Agencies will be given first choice to 11/20, and then will be offered throughout Northeast Georgia.
Lost person behavior is the cornerstone of search and rescue efforts. Based upon a landmark study, this book is the definitive guide to solving the puzzle of where a lost person might be found. Nowhere else is it possible to learn about the latest subject categories, behavioral profiles, up to date statistics, suggested initial tasks, and specialized investigative questions. This book delivers what search managers need.
Lost Person Behavior provides the reader with:
An indispensable book that can be used as a field reference (special rugged binding allows the book to lay flat) and an essential library reference

The latest search and rescue incident statistics from the International Search & Rescue Incident Database (ISRID), which contains over 50,000 SAR incidents

New detailed behavioral profiles that give insight into what drives the basic behaviors of lost people

Statistics based upon ecoregions to best match your specific search areas

New types of statistical information; find location, scenario analysis, mobility time, survivability, elevation changes, track offset, dispersion angles, plus classic statistics such as distance from the initial planning point

The ability to pinpoint the most likely areas to search, then determine initial tasks quickly using reflex tasking, the bike wheel model, and quick consensus.
Robert Koester's ground-breaking research has made a science of the study of lost person behavior. This book underscores the importance of that science. Lost Person Behavior is an indispensable part of any rescuer's library.
-Charley Shimanski, President Mountain Rescue Association
One Response to "Lost Person Behavior Class – Dec 12-13, 2009"