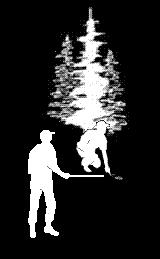 Welcome to the Georgia Trackers Alliance (GTA) Website. This is our public forum for discussing all tracking related topics. GTA is a non-profit corporation serving the Southeast United States.
SPECIAL NOTICES:
——————————————————————————
Visit our BLOG for all the latest information on GTA
http://www.georgiatrackers.org/blog/
New Training schedule has been posted
Watch "upcoming events" regularly!
—————————————————————————–
The Georgia Tracker's Alliance corporate mission is to provide trained personnel to respond to visual tracking resource requests. This includes providing tracking education and to generally perpetuate the availability and use of visual tracking skills as a primary, first response resource for SAR and Law Enforcement requirements. Not all GTA members desire to make themselves available for emergency callouts by applying for a field team member position. These members are still an important part of this regional alliance and all types of tracking interests are welcome in GTA. As many have said many times and in many ways, tracking is a perishable skill and many believe the skill can and has passed from certain societies in a single generation. A secondary objective of GTA is to support the growth of tracking skills in contemporary society in general, as a safeguard that the skill will persist for future generations. GTA has served the training or callout needs of more than 150 persons. Combined, GTA students have participated in more than 5,800 hours of tracking-specific training and field time, and we maintain a passion and dedication to develop and maintain tracking skills in support of our corporate mission.
We hope that you will browse our site, consider our mission and vision, and generally feel comfortable bringing up any discussion here that will help promote the development of tracking skills, clarify tracking related topics, or help integrate tracking into our SAR and LE community in the Southeast United States. Thank you for visiting, and please feel free to leave a post on our website or use our contact form to connect with us directly.
– Mark Young, on behalf of the Georgia Tracker's Alliance Board